Friends of the Library
The Friends of the Framingham Libra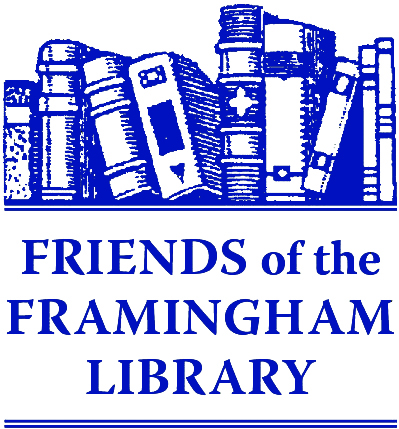 ry take an active interest in the development and use of the Library, focus attention on its needs as well as its services to the community, and provide items not included in the library budget. The Friends sponsor programs for children, teens, and adults; purchase software for the Creation Station, apps for the iPads in the Children's Room, books for the summer reading program, and fund museum passes.
And the winner is...
Congratulations to Diane Birstein, winner in the drawing for the $100 Visa Gift Card!

Many thanks to all who joined or renewed their membership in the Friends before September 30th.

A special shout out to the Friends corporate donors:
If you would like to learn more about how your business can support the Friends and the library, simply click here.
New and Fun: Personalize a Bookplate
With a $5 donation to the Friends you may have a bookplate customized with your name put into an adult or child's Library book. Sign up at the Main Library or at the Friends sale.
Enjoy films?
The Friends of the Library make the screening of all our films possible by paying for the costly film licenses needed for public viewing. Each year these licenses total almost $1,000 and without the contribution of the Friends, it would not be possible to offer as many films as we do now. The Friends have purchased hearing loops to be used by those who need assistance hearing our programs.
Book Sales
The Friends of the Framingham Library hold monthly book sales on the third Saturday of the month. Please click here for details of the upcoming sale.
Donate Your No-Longer-Needed Books, DVDs, and CDs (sorry, no VHS / videos) to the Library
We welcome your surplus books, DVDs or CDs which are in good condition. Small donations of 1 or 2 bags are gratefully received any day. Larger donations are welcome on Friday mornings or on the day of a monthly book sale. You may also call 508-532-5570 x4333 to arrange for drop-offs.
Your membership helps us to provide many services to library patrons.
The Friends are a 501c(3) nonprofit organization; contributions are tax deductible and eligible for corporate matching gifts. We appreciate your support! Please click here for details about membership.

Photo by Carrie Woodsum

Nicole Siswick of MOMS Club of Framingham presents Friends with a check. Siswick said, "We voted to support the library because it is an invaluable public resource that anyone can access! Fostering a love of reading in children positions them for success in their lives, and we wanted to support the library's efforts to do that."